App version: 3.1.1
Problem I'm having: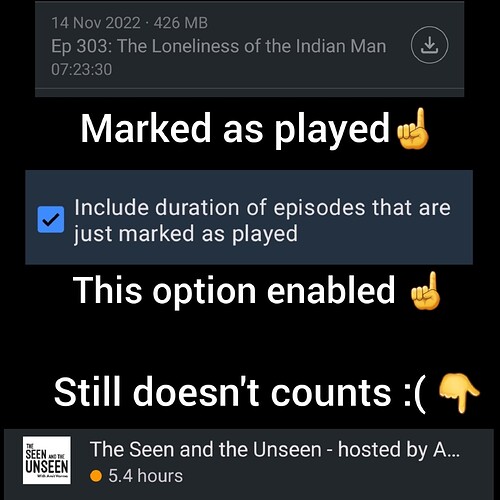 Please refer to the image above. I already listened to the podcast on YouTube. Now when I mark that podcast "played" in Antennapod, while the option for "Include duration for episodes that are just marked as played", it still doesn't counts the time.
Steps to reproduce:
Mark a podcast as played while "…are just marked as played" enabled (in this case,from The Seen And The Unseen pod).
Ideal behaviour would be for it to count the time of that podcast (+7 hours), but it doesn't.
why is it problematic for me? …I listen to podcasts on different platforms in some cases (in this case, this pod was merely 150 mb on other service while on Antennapod it's almost 500 mb), then I mark it played in Antennapod. The entire point of having stat screen is true reflection of what has been listened to but it ain't counting it properly…
Any workaround to fix it, please?