Hey, i finally gave up my opposition to spotify for listening to music and create shared playlists, even tough I really dislike the made for dumb interface and the "smart" suggestions, I found it great to listen to some (original) podcasts without subscribing to them, maybe AP can learn from that, the preview is kind of a hassle and sometimes you just want to listen to one episode, so here's what I'm suggesting:
Instead of preview, a new podcast (discovered through iTunes or search or the new discovery screen if finished) is simply added as a temporary podcast to the database, if shows up as the regular feed episodes list, just with an add/subscribe button instead of the settings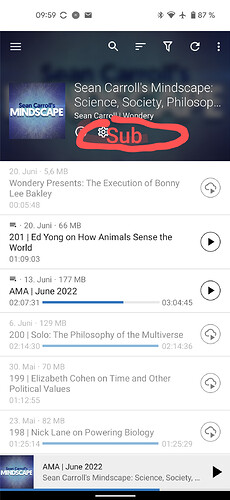 Then one can listen every episode, which is added to the queue as well (according to general settings, autodownload etc).
This podcast, while not subscribed, won't be kept recent (not sure what the english wording is but its not included in the episodes screen and AP doesn't call the RSS feed automatically). The temporary podcast is kept in the database as long as there's an episode on queue, is there's not, it's silently removed during the general calling of all RSS feeds.
What do you think? I think this behavior would be more intuitive and more welcoming to exploring new podcasts (especially with moving to new home and/or discover screen).
This should be rather simple to implement right @ByteHamster ? So what do you think, do you like this idea?