App version: x.y.z (state whether from Google Play/F-Droid/Custom built APK)
2.5.2 (1bc02fd84)
Android version: 5.x (Please mention if you are using a custom rom!)
11
Device model:
motorola one 5G ace
Expected behaviour:
When a podcast is played, the podcast displayed as being played in the playback interface should show the correct podcast that is being played.
Current behaviour:
The AntennaPod app playback will show that a different podcast is being played than the actual one that is being played, but the one that was selected to be played is actually the one that the audio is being played for. The length of the podcast will also show the length of the wrong podcast but the timestamp of the currently playing podcast will be the correct time, so it can appear e.g. as playing at 1:23:45 of a 0:30:00 podcast. It seems that the one that is being shown (not played) is usually the one before or after the one being played in the queue so possibly come type of index error. Sometimes the correct one is shown, sometimes it seems to change to the wrong one right away, sometimes after leaving and returning to the app.
First occurred: (e.g. about x days/weeks ago)
Noticed first several months ago
Steps to reproduce:
This
Then that
Then this
Etc.
Connect phone to vehicle (don't know if this reproduces for other phones/vehicles), use phone to navigate to a podcast to play in the queue, press the play button. Often, the one that then shows up at the bottom playback bar is the wrong podcast (however correct podcast is actually played), and when the playback bar is pressed and expanded to full screen, still will show wrong podcast.
Environment: (Settings you have changed (e.g. Auto Download). "Unusual" devices you use (e.g. Bluetooth headphones). Did you select another media player?)
Bug may be related to Android Auto, as it happens when connected to 2022 Toyota Tacoma through USB (and Bluetooth) and Android Auto is active, although I am controlling playback through the AntennaPod app on the phone and it's on the phone where it displays the wrong podcast being played.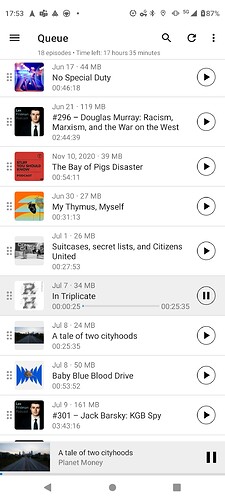 Stacktrace/Logcat:
[if available]