App version: 2.7.1 (via Google Play)
Android version: LineageOS 18 (corresponds to Android 11)
Device model: Pocophone F1
Expected behaviour: Episodes within a feed should be displayed separately in the inbox, even if they have identlical names.
Current behaviour: Best demonstrated by the following example: German public radio Deutschlandfunk releases two editions of its German press review ("Presseschau") per day, one (shorter) at 5.35 am, one (longer) at 7.05 am.
When I refresh my inbox at 7.00 am, the first (shorter) episode is displayed, as expected.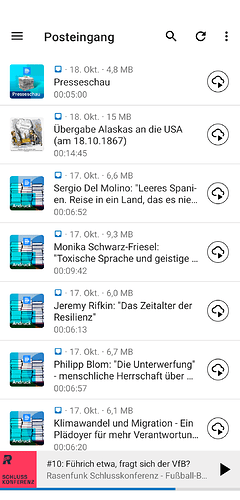 When I refresh again at 8.00 am, I still see one Presseschau episode, but with a file size increased to 8.6 MB. (Strangely enough, the duration of the episode remains unchanged…)
[Unfortunately, new users can post only one screenshot per post, so you'll have to do with my description…]
If I play the episode, it is indeed the second (longer) edition, as indicated by the increased file size.
Looking into the Deutschlandfunk app, you can see that there are indeed two separate episodes. [Again, no screenshot, sorry for that.]
I assume that AntennaPod treats the second episode as a sort of "re-upload" of the first due to the fact that they have the same publishing date and the same episode title. In the scenario shown above, this is obviously not the wanted behaviour. On the other hand, you could imagine the broadcaster actually re-uploading an episode, e. g. due to an error in the original file – in this case, you would (correctly) only have the newer entry in your inbox.
I am actually not sure who to address on this topic – you could argue it is not a good idea to publish different episodes of your podcast with identical names, so maybe Deutschlandfunk is to blame? (To complete the confusion, they sometimes rename the episodes already issued in the course of the day, which in turn does not lead to new episodes in the inbox.)
It would be great if someone who knows about things "under the hood" could explain why they opted for the current behaviour. (If I'm not totally wrong, this was handled differently in the past!?)
First occurred: Hard to tell… I first noticed there were episodes "missing" maybe two months ago but didn't realize they were actually "overwritten" until recently.