App version: 3.1.2 (Google Play Store)
Android version: 9.x (Android go-Edition)
Device model:
Environment
OS version: 4.4.146+
Model: W-K510-EEA
Device: W-K510
Product: W-K510-EEA
No crash report recorded
Current behaviour: Can not configure swipe-gestures
First occurred: Since AP v3.x.x
Steps to reproduce:
See Screenshot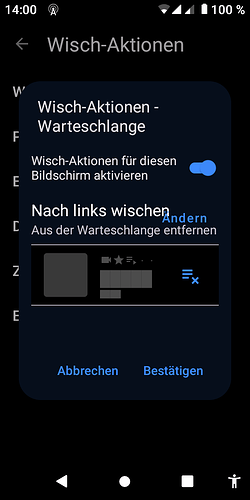 Hello kind AP-Team,
i am not able to configure ALL swipe-gestures anymore, see screenshot. Only left-swipe ist configurable and some selectable actions are truncated. Right-swipe configuration disappeared since v3.x.x.
Predefined factory settings working. Flawless.
Short remark: I changed Androids global font-setting from Normal to Larger. Perhaps the reason for my described issue?
What do you think and/or what does fix/solve that issue?
Kind regards.